The time between a murder and someone being charged has always posed problems for the tabloids. Eager to keep the story running, but with no real hook for it, they often end up scrabbling around for something, anything to keep people glued in anticipation of someone being caught. So it is with the Joanna (now just 'Jo') Yeates murder.
Today we find several papers tossing wildly different logs into the fire. The Sun goes with this good old-fashioned campaign nonsense:
The Mirror features the previous suspect, now released without charge, continuing to vow to clear his name. The Mail, meanwhile, goes back to one of its favourite social ills, Facebook, with a rather flimsy-sounding suggestion that Yeates may possibly have been killed by someone who knew her through the social networking site: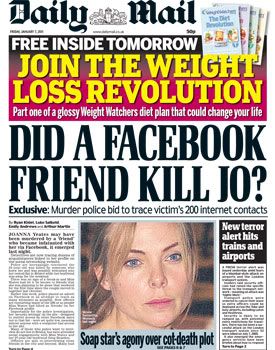 I won't go into much detail on that, as it's already been very well covered by Natalie Dzerins over at
Forty Shades Of Grey
, which you may go and read now as long as you promise to come back.
Today's prize for most grotesque coverage, though, must go to The Daily Star, who have gone for this: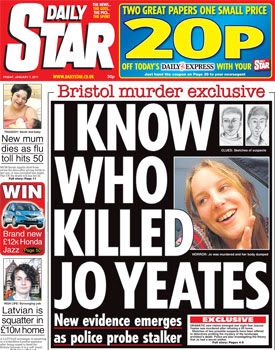 It's a bad enough headline in itself, but it becomes even more grim when you realise that this story, this new 'evidence', worthy of a front page headline no less, is based entirely on the claims of a single
psychic
. Yes, you read that right, a national newspaper has given over its front page to the wild claims of a psychic investigator.
In
the article
we get some more detail about the claims;
The psychic investigator insists she "saw" Jo being attacked by two of a group of five men after she rejected their offer of a lift.

It's later revealed that this vision took place 10 days before Yeates went missing. She speculates further, saying "The girl wasn't bosom friends with the men. It looked like they offered her a lift but she didn't take it and they followed her". It looked like? Is a psychic giving rough details of something she saw in a vision of something which may or may not have been relevant, really good enough for a national newspaper front page? Apparently it is.
The psychic in question is Carol Everett, a shameless self-promoter who has attached her, er, unique gift, to various high-profile cases, including the Ian Huntley murders and the Washington sniper. She
claimed
to have drawn Huntley and Maxine Carr before they were arrested, a claim which seems impressive at first but falls apart when you scroll down to the untouched image, which has 'Carr' with beyond-shoulder-length hair, and an utterly generic white male drawing which claims Huntley has blue eyes (he doesn't),
piercings (none visible)
and isn't even sure whether the thing on his head is hair or a scarf. [EDIT: thanks to
@tabloidwatch
on Twitter for correcting me here, I think the 'piercing' may have been a description of Huntley's eyes. Which still aren't blue, mind].
I don't want to get dragged too far into the subject of whether psychics are real or not, but ultimately this kind of unfounded speculation from a single source who has no knowledge of the case can't be helpful, particularly when she's allowed to toss out potentially serious misinformation like this:
Carol described the killer she saw as of mixed race, 5ft 11in to 6ft tall and in his early 20s
Perhaps it's the mysterious "some Puerto Rican guy" from South Park. Either way, this really feels like tremendous barrel-scraping from a paper content to give a platform to self-promoting bullshit merchants for the sake of keeping voyeurists entertained.